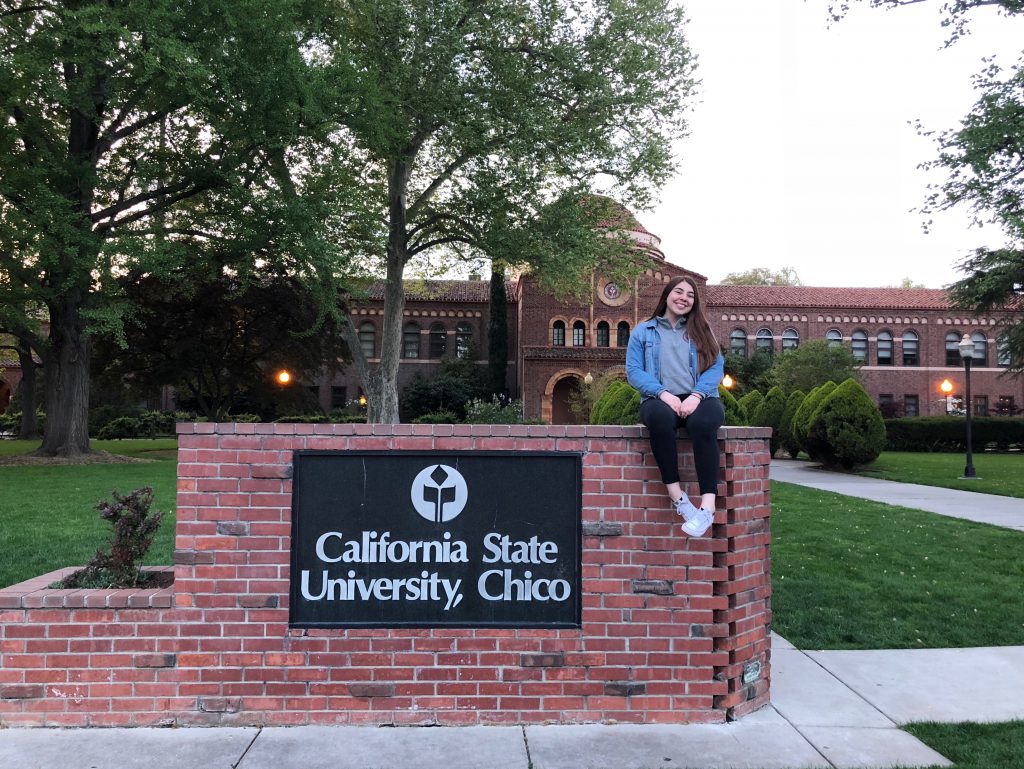 A Message to Incoming Students
Dear Incoming Students,
We are sorry your senior year came to a sudden stop, and we understand how many mixed feelings you might have during this time. Between making your final decision on what college to attend and staying healthy this is a very challenging time. We want you to know that you will end up where you are meant to be and you will have an unforgettable experience. CAVE (Community Action Volunteers in Education) would like to share a few highlights of Chico just for you!
For those of you who don't know what we are, CAVE is a program of the Associated Students. We are the largest student-led organization at Chico State, dating back all the way to 1966! We offer a variety of semester-long volunteer opportunities that focus on kids, the elderly, animals, and the environment. During the semester we host big service projects, in the fall called Make a Difference Day and in the spring called 'Cats in the Community. We also have Weekend Wildcat, one-time volunteer opportunities for all students on campus. Anyone can participate in these, even if you aren't committed to a program in CAVE!
*Important Note: CAVE may looking different in Fall 2020 due to the COVID-19 Pandemic.
So why choose Chico, and why join CAVE? We thought you'd like to hear it for yourself from some actual students! Our staff member Shelby Wood has been a part of CAVE and Chico State for four years! She said, "My first time visiting the campus, as cheesy as it sounds, it really just felt like I belonged there and no other schools made me feel like that," she has lived by CAVE's motto, "Life is for Learning", through her entire college experience and also noted how in CAVE, "We all come from all kinds of different backgrounds and have different majors, but it still feels like we're a family who helps each other grow and succeed." Another staff member Racheal Jarbo said, "I wish I joined CAVE sooner because I found out the more you put into CAVE the more you get out of it." As she gets ready to graduate and start her career in the world she notes that, "CAVE embodies the idea of strength in numbers. We prove everyday what powerful things we can accomplish when people work together on a common vision."
Below are some of our favorite things about the Chico State Community!

Local Events
The Thursday Night Market has music, food trucks, and vendors and happens weekly in the fall. Enjoy the afternoon after class with some friends at the market making memories! Year-round, every Saturday a mini version of the market also happens downtown.
Each holiday season, Downtown Chico also hosts the Parade of Lights. You get to watch the twinkling lights of themed floats from local businesses and organizations that are popular in Chico. They light a tree together and the shops downtown hold a "preview" with special deals and decorations.
Chico also loves to celebrate its local history of sports and hall of fame with a parade in May called Pioneer Day. Music, performances, food, and vendors are available for all to partake in the streets of downtown Chico.
At the beginning of summer, there is a county fair that is filled with carnival games and lots of animals! Chico State Agriculture shows off their prize-winning animals, some of which you can even pet.

Downtown Chico Spots
You can visit tons of shops like Bird in Hand and see the world's largest yo-yo in the National Yo-Yo Museum. Sometimes you can even meet the national champ, who happens to also live in Chico!
The Bidwell Mansion, is a historic site right next to Chico State. In the winter time, you can learn about its history while enjoying its seasonal decorations.
Downtown Chico thrives with small businesses like Lulus Outlet and Burgers and Brew. If you love coffee as much as our locals do, then you have a variety of coffee shops we have to offer like Naked Lounge, Tender Loving, Brave Coffee and more. Some of these shops even host live bands!
There is a wide selection ofof restaurants you can try to spice up your life as well. You can have poke and sushi at Japanese Blossoms or Big Tuna, and the next day indulge in sweets from Midnight Munchies, Cream, Tin Roof Bakery or Insomnia. There's pizza from Woodstock's or Crush, pasta from Italian Cottage, Indian food from Taj, Mexican food from local food trucks and so much more! But of course a Dutch Bros and Starbucks are nearby too!
Nature
With the beautiful Redwood trees sprinkled throughout the many other types in the area, everyone can proudly say their favorite time of year is when the leaves change into bright yellows, oranges, and reds. Many people in Chico own bikes and love to bike ride together on scenic routes in Chico.
If you have a car you can go to Paradise and watch the sunset with a beautiful scenery at the lookout point. There's a long gate of locks to lock in your love with your closest friends.
As far as swimming spots go there's Five Mile, One Mile, and Bear Hole where you can cool off in Chico Creek. In certain areas you can find a swing to jump into the water with! In other areas you can take a trail and watch the sunset from Monkey Face.
If you're feeling adventurous you can beat the heat in the Sacramento River, some people even rent kayaks or paddle boards.
If you're feeling like an out of town outdoor trip check out Adventure Outings. They offer whitewater rafting and much more!
You can have cute photo sessions in the vast fields of Butte Meadows or Horseshoe Lake. On the way to Feather Falls, you can even sit in a blooming flower field or picnic near the waterfall!

Entertainment
If you are into music and love seeing festivals or concerts, then you're in luck. El Rey Theater and The Senator are small but they hold some of the biggest artists that come annually like Party Favor, Techn9ne, Dirty Heads, and more. They hold comedy shows like Trevor Wallace and other events, most guests love to connect with our locals at some hot local spots!
Our roller skating rink and bowling alley both hold special nights just for college students, which is always the best time to bring groups of friends.
You can let out some steam at the batting cages, dominate in mini golf, or check out the stars in the observatory!
There's so much more you can do in Chico whether it's on campus or off campus! The list is endless but a good place to start on your personal journey here in Chico. CAVE hopes you make your second home where you feel the most comfortable. Good luck on that search!