How can Government Affairs better serve our student body?
On February 15th, 2022 AS Government Affairs hosted their first Town Hall of the semester. Town Hall is an opportunity for students to come and address concerns through discussion with their campus representatives. Anyone and everyone are welcome to come and have a voice. Town Hall is a great way to directly contact your AS Government Affairs team and hear about upcoming events, resources on campus, and learn more about campus engagement opportunities.
Elections Season Information Session

Government Affairs kicked off Town Hall with an informational session on the upcoming Elections season, reminding students and answering questions about the Intent to File packet. The deadline is Wednesday, March 2nd at noon.
A few reasons why you should run for an elected position are personal and professional development, mentorship opportunities, and participation in shared governance. Also, while in office, Elected Representatives are eligible for a scholarship based on a percentage of the undergraduate off-campus cost of attendance for the year of their term. Check out this link to hear from our current representatives on why they ran and why you should too.
Represent the student body in a wide variety of roles focused on student-facing topics and issues. For more information on the Intent to File process and application, check out this page. Don't forget you must schedule a meeting with the Elections Supervisor to review and turn in your application.
Which of the 17 available roles speaks to you?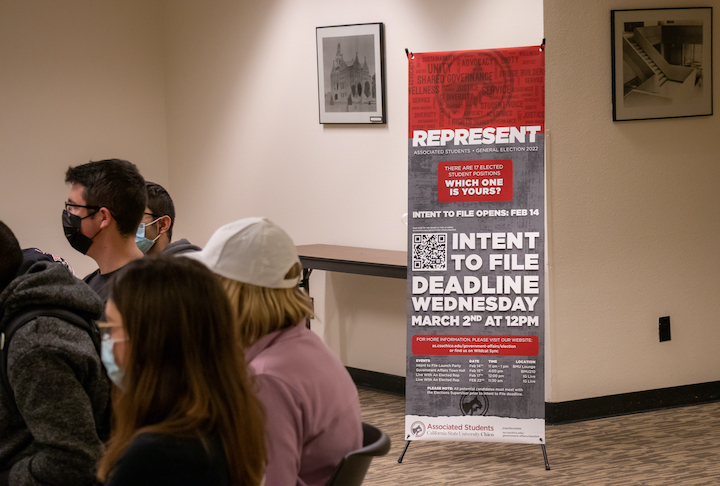 Moonlight Safety Walk

Delaney Love, Commissioner of Community Affairs, spoke about the Moonlight Safety Walk, which happened on Wednesday, February 23rd. Moonlight safety walk included a taco bar and an opportunity for students to come to address safety issues and concerns on and around the Chico State campus and surrounding communities.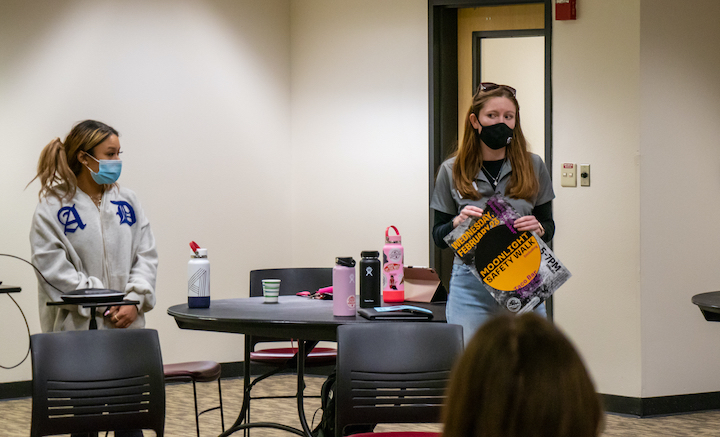 Question and Answer
This was an informal part of the event for students to bring up questions and concerns they had for our Government Affairs team. A few things brought up were students are looking for opportunities to get involved around campus and would like organizations to reach out via classroom visits, events, and other forms of outreach. There is a demand for counseling services, as well as peer support. Students are looking for ways to get involved on both University and student government sides. There were discussions concerning staffing issues majorly affecting Chico.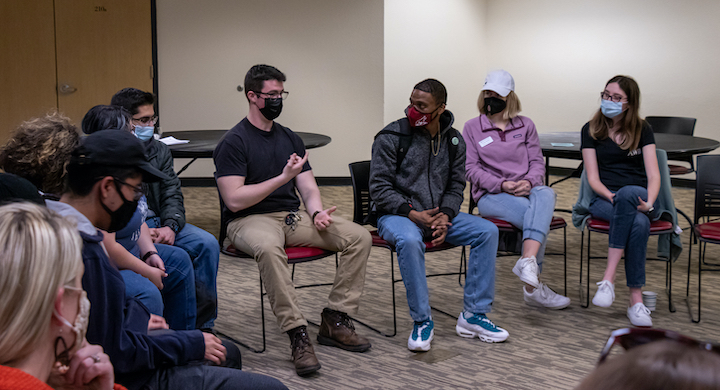 Town Hall is a great resource for students to come speak directly with their Government Affairs team, hear about upcoming events, and find out more about what resources are available. Can't wait to see you at the next Town Hall on Tuesday, March 8, 2022, 12 p.m. - 1:30 p.m. in Bell Memorial Union 203.