Community Action Volunteers in Education (CAVE) provides meaningful volunteer opportunities to Chico State students, develops student leaders, and serves a broad base of community needs. CAVE offers a variety of semester-long volunteer opportunities, and we are excited to bring back our full slate of program offerings this semester! Learn more about some of CAVE's volunteer programs below.
Adopt-A-Park
Adopt-A-Park volunteers help clean, plant, and preserve species at Bidwell Park in order to maintain environmental growth and prosperity. Volunteers plant native species and keep plants clean and physically attractive. Working together and peer communication are important skills to ensure students do not mix up plant species. This program is hands-on and brings awareness to the environment and community that surrounds us.
Coordinators recruit volunteers for the program, review and go through applications, interview applicants, communicate with the City Park's Department, and check and schedule upcoming events in relation to the Adopt-a-Park program.
Previous Adopt-A-Park Coordinator, Megan Auzat, states, "I enjoy the program. It gives me experience and helps me make connections."

Animal Connections
Volunteers gain experience with animal care, dealing firsthand with the dogs and cats at our two partner locations, Chico Animal Shelter and Butte Humane Society. Volunteers are responsible for taking care of pet care, cleaning, walking, feeding, and supervising cats and/or dogs. They socialize with the animals on a daily basis helping dogs and cats build strong and trusting relationships with potential adopters.
Volunteer, Erick Perez states, "I joined animal connections because I like giving back to the community any way I can."

"I learned behavioral signs between the pets and visitors while volunteering. I also learned animal shelter procedures," states Perez
Volunteer, Imani Martin states, "A highlight I had during volunteering was when I was stressed with life and school, and I came into volunteering, tired and stressed. I was able to relax by socializing with the cats, which I loved."
Martin states, "A learning experience I had while being a part of the animal connections program is time management. Even though it was hard to try and figure it out and work out my availability, I think this struggle helped me to be able to manage and prioritize my time better."
Martin says, "Be prepared to have days where you don't want to volunteer, are so tired or stressed, but show up to those days because overall the experience is so rewarding. I think everyone should try and volunteer at animal shelters."
Wildcat Food Pantry
The Wildcat Food Pantry is a new addition to CAVE's volunteer programs. The pantry helps support Chico State students with basic needs, accessible nutrients, and hygiene essentials. The pantry provides a wide range of dry goods such as; beans, rice, snacks, and cereal. Frozen/cold goods such as; bread, butter, meats, and dairy. Fresh goods like; fruits, vegetables, canned fruit/vegetables, and occasionally pre-made meals. In addition, toiletries, deodorant, razors, mouthwash, toothpaste, toothbrushes, and sanitizer are offered.
Volunteers at the pantry assist with stocking and organizing the products in the pantry.
They help with sorting, restocking, and cleaning the area. The Wildcat Food Pantry is a beneficial resource for students and is available to all students, including those volunteering at the pantry. Volunteers also get to make new connections with other students on campus who are visiting the pantry.
Cole Hanna states," The Wildcat Food Pantry is very important to the students of Chico State. More students need to realize how useful it is. Not everyone knows about it, but when they do, they are always coming back."
Hanna states, "some students are not able to get a meal every day, and I'm glad that the pantry on campus is here to help."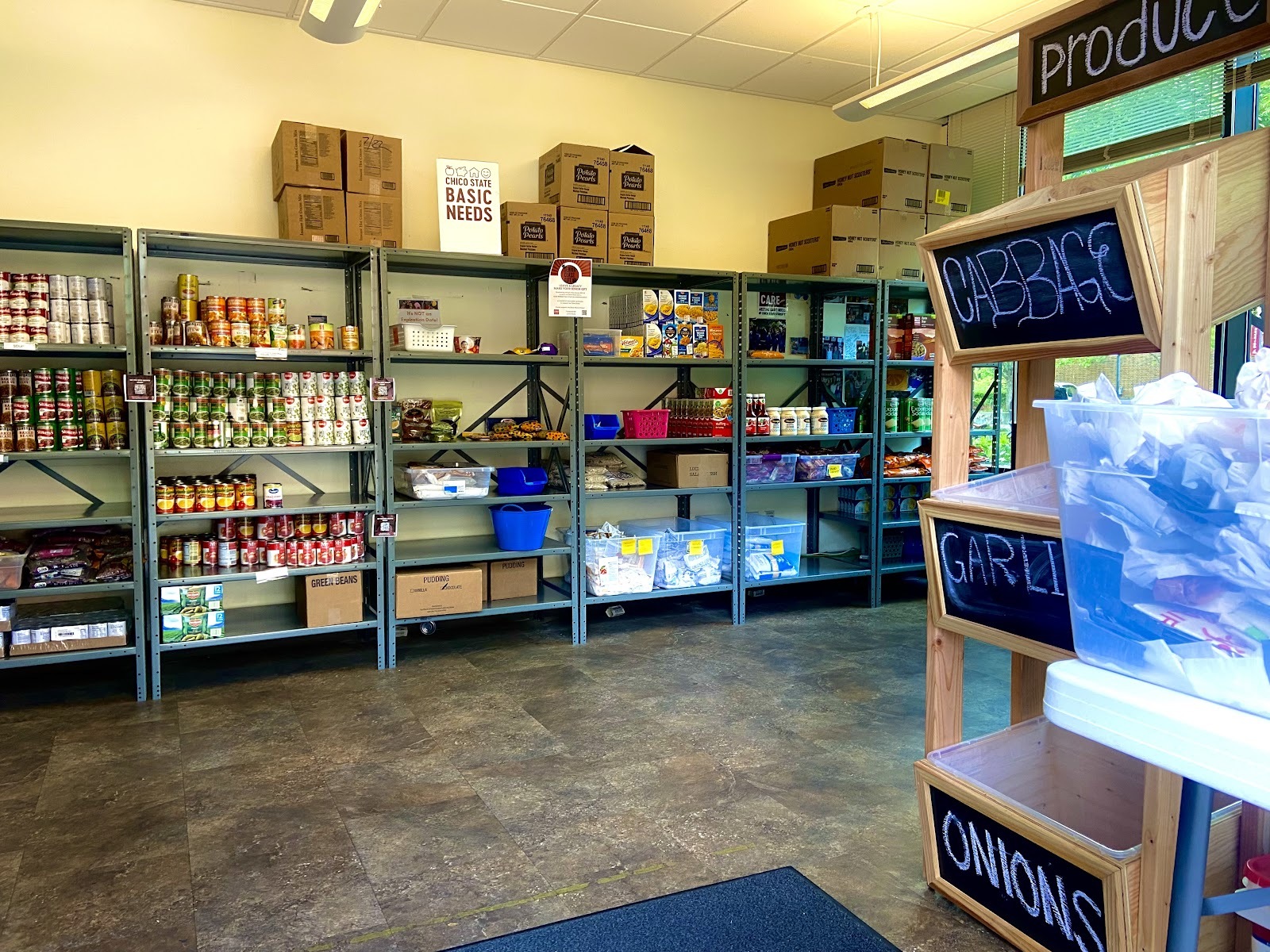 Hanna states, "The pantry is a very amazing place to volunteer at, and I'm glad I was able to get the opportunity."
Volunteer, Luke Richardson states, "I love that the pantry provides a lot of fresh food, shelf food, hygiene products, and ready-to-eat food/meals."
Richardson states, "The food pantry is without a doubt one of the best assets for Chico State students."

Community Outreach Ambassadors
The Community Outreach Ambassadors (C.O.A) program at CAVE offers volunteers the opportunity to assist at local shelters for people experiencing homelessness, the Esplanade House and the Torres Shelter.
CAVE Group leaders for the Esplanade House organize pre-volunteer meetings and supervise volunteers and match volunteers with children at the Esplanade House. Usually, Volunteers are paired with one to two children and spend their time tutoring them and playing games.
CAVE Volunteer at the Esplanade House, Victoria Krueger states, "My experience volunteering has been such a positive experience and has made me want to be more involved with Chico State."
Kruger states, "It is a great way to be involved in the school and make new friendships along the way. Some skills I have learned while in this program are patience and improving my communication skills."
Volunteer at the Torres Shelter, Brenda Oregel states, "The most memorable moment for me is talking to the people. They like to talk and tell you about their stories. It was really interesting to have them each tell you individual aspects of their lives."
Oregel states, "An obstacle I encountered while volunteering was having conflicting hours. It was hard to get a concrete schedule, but the Torres Shelter was great at accommodating however I needed."
Oregel states, "My favorite thing this program offers is a chance to experience multiple aspects of different careers while gaining hours as well as a credit. Through this program, my social skills have highly increased."
Oregel states, "I would recommend another student to do it! It's really fun and at the same time informative to participate in something similar to what you're interested in."

Enloe Medical Center
The Enloe Medical program is one of our newest additions to CAVE, established Spring 2022. Volunteering for the Enloe program is a great opportunity to gain experience in the medical field. The limited number of positions available in the program typically fill with pre-nursing students.
Volunteers who decide to participate undergo training at the hospital the first three weeks, gaining knowledge, and practice through orientation, service training, and unit training. After adapting to the training and learning protocols, volunteers are able to experience working firsthand with nurses and certified nursing assistants (CNAs) in the hospital.
Once volunteers begin to work, they are split up onto different floors each week, working one on one with nurses in different health areas. Volunteers act as another set of eyes and ears, assist nurses in rounding rooms, run specimens and collections to labs, and increase their experience with patient care.
Throughout their volunteering at Enloe, volunteers will gain a better understanding of bedside manner, hospital protocol, lingo, and hospital procedures.
Spending time in the hospital helps volunteers learn what particular medical field interests them the most. By interacting and working on different floors, it creates a better understanding of what environment they prefer in the hospital. Checking on patients in all wings on the floor becomes a routine, and responsibilities vary depending on the patient's personality and their urgency. Volunteers have the ability to distract patients from the scary reality of being ill in a hospital.
As a CAVE coordinator for Enloe, this student oversees two group leaders and up to 20 volunteers, assuring that everything regarding the program is flowing smoothly and everyone is on track with their responsibilities. Enloe coordinators constantly contact and support group leaders by assuring they have the information needed to succeed as a group leader. In addition, it is necessary to meet with Site Liaisons, which are people at Enloe that supervise volunteers. By meeting with liaisons, it keeps a two-way, clear line of communication between CAVE and Enloe. Coordinators also have to attend meetings to discuss how the program is going and suggest changes and improvements throughout the semester to assure the most beneficial outcomes for the program, its leaders, and its volunteers.
"I love coming into the office; it is always full of positive attitude," Sydney Minns, former coordinator of the Enloe Medical program, said, "I love what CAVE stands for and the opportunities Chico State provides for the community."
"Everyone welcomed us with open arms," states Pre-nursing major, Kylie Jones, a volunteer at Enloe Medical Center.

Pre-nursing and public health major, Luis Villanueva, a volunteer at Enloe Medical Center, states, "I love it. It is very interesting. Every day is something different. I come in excited to see what would be the different experience I would have today. It has opened my eyes a lot."
Villanueva states, "If you have the opportunity, take it without double thinking about it. Through every different experience, you gain different points of view you need to have."
"A highlight coming to the hospital would be listening to the patient's story because I like to get to know them a little better," says Villanueva.
"All staff have been very welcoming at Enloe Medical Center. Onboarding and training prepared us to know what to expect at the hospital," says Villanueva.
Villanueva states, "There were very limited spaces to get into this semester. I would most definitely recommend it. It is a great experience. You can get hours and hands-on work."

To see more information about CAVE's programs, along with the meeting times and requirements, please see this document. Keep up with the latest updates from CAVE on their website here, or follow them @chicostateCAVE on Instagram to stay in the loop.