As a participant in the national Real Food Challenge, The Associated Students continues to shift food procurement from industrial farms and unhealthy food, towards local and community-based, fair, ecologically sound, and humanely-raised food by 2020 through our Dining Services offerings. CSU, Chico has been recognized as the highest overall all Real Food (as defined by the Real Food Calculator) percentage, landing at 15% of total food purchases.
The Real Food Challenge began in 2007 when it was founded by a committed group of student activists, national food movement leaders, and higher education sustainability experts. Amidst growing movements for farmworker justice, international fair trade, student farms and gardens, and local food, Real Food Challenge launched as a means to amplify student voices and focus our collective efforts on real change in higher education and in the food industry.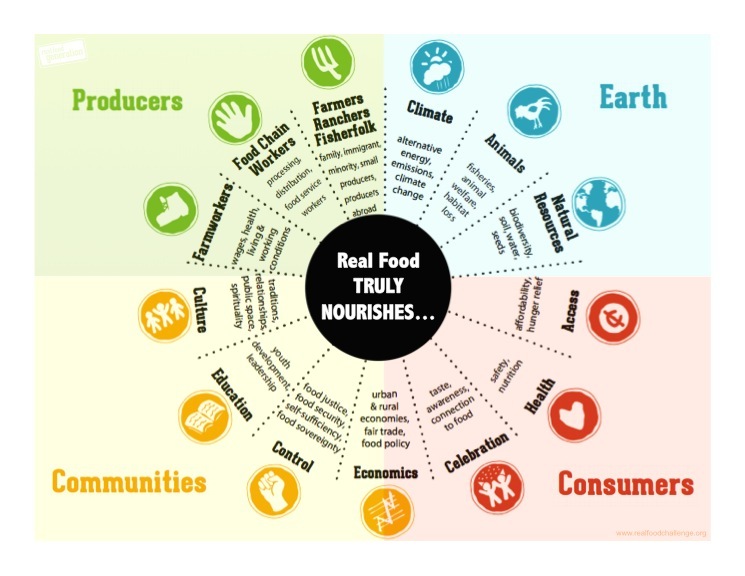 With the support of the California Student Sustainability Coalition, The Food Project, and a number of other national partners, Real Food Challenge became an independent, self-funded program of The Food Project in 2008. Today, Real Food Challenge operates as a self-funded, fiscally sponsored project of TSNE MissionWorks.
Since its founding, Real Food Challenge has built a powerful network of hundreds of student leaders while educating and training tens of thousands of young people across the country. These students have won shifts of over $80 million in campus cafeteria dollars to local, ecologically sound, fair, and humane farms and food businesses.
The Real Food Challenge leverages the power of youth and universities to create a healthy, fair, and green food system. The mission is to shift $1 billion (20%) of existing university food budgets away from industrial farms and unhealthy food and towards local & community-based, fair, ecologically sound, and humane food sources—Real Food—by the year 2020.